BARIL BIOBASED PRODUcT
For the production of Copperant, its producer Baril Coatings tries to use as many as possible biobased resources. Biobased paints are made on a basis of a plant-based binding agent, instead of a traditional fossil binding agent. The biobased resources come from vegetative waste and therefore no extra agricultural land needs to be used for the production of their resources. The binding agent in Pura, Quattro, and Altra is plant-based. Pura and Altra are water-based.

Copperant Altra and Flora Wood and Floor Lacquer have come to existence through a collaboration with DSM, who together with Decovery® has created a unique plant-based high-performance binding agent.
Take a look at the business case
Biobased content
To establish what concentration of a product is biobased, a 14C analysis can be carried out. Based on the results (concentration of 14C = concentration biobased carbon), the TÜV Austria will hand out a certificate with a certain number of stars. Based on the established percentage of renewable resources (% biobased), the product can be certificated with either one-, two-, three- or four-stars-biobased. The Copperant Quattro outdoor paint has 2 stars OK biobased. To qualify for an OK biobased label from TÜV Austria, the product must contain at least 50% completely biobased materials. Water-based products such as Copperant Pura contain less than 50% completely biobased materials due to their nature. Therefore, the USDA-certificate is suitable for these products. To establish the concentration of biobased materials, a test like the 14C test is executed by Beta Analytic for Copperant products.

Download test reports biobased content:
Pura Multiprimer: ca 47% Biobased Carbon Content
(renewal certificate in process)
Pura Lakverf mat: ca 48% Biobased Carbon Content
Pura Lakverf zijdeglans: ca 50% Biobased Carbon Content
Pura Lakverf hoogglans: ca 50% Biobased Carbon Content
Pura Dekkende Buitenbeits: ca 48% Biobased Carbon Content
Pura Muurverf extra mat: ca 50% Biobased Carbon Content
Pura Monopac Muurverf: ca 47% Biobased Carbon Content
(renewal certificate in process)
Flora Hout- en Vloerlak: ca 30% Biobased Carbon Content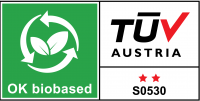 Quattro Lakverf UV+: ca 45% Biobased Carbon Content
(2 stars OK Biobased)
Quattro Grondverf: ca 45% Biobased Carbon Content
(2 stars OK Biobased)
Quattro Systeemverf UV+: ca 45% Biobased Carbon Content
(2 stars OK Biobased)